Welcome to the 2016 DEKALB SuperSpiel. We are excited to be back in Morris and Rosenort this year in what has become an annual commitment for Monsanto Canada and our DEKALB seed brand.
Southern Manitoba is an important region for Monsanto's business as farmers look to capitalize on the opportunity to incorporate canola, soybeans and corn into their crop rotation. Monsanto's DEKALB seed brand offers an extensive line-up of products for farmers and leads the field in breeding innovation. Our priority is to discover new ways to turn yield potential into success through research and development, high-performing seed, agronomic expertise and customized advice and solutions.
Monsanto is a company committed to bringing a broad range of solutions to the challenge of nourishing a growing world. We produce a variety of seeds ranging from fruits and vegetables to crops that are important to farmers in Southern Manitoba such as canola, soybeans and corn. And we are constantly striving to find sustainable agriculture solutions that help farmers conserve natural resources, use data to improve farming practices, use water and other important resources more efficiently, and protect their crops from pests and disease.
We're also committed to supporting communities and improving lives in ways that extend beyond our business and we collaborate with farmers, researchers, not-for-profits, rural communities, universities and others to help tackle some of the world's biggest challenges.
Our involvement with the sport of curling is an extension of that support. Through curling, we've had the opportunity to engage with farmers, sponsors and rural and urban curling fans. We've built terrific relationships, supported the game and had some great conversations about curling, farming and food. We truly value these opportunities.
We wish all the curlers good luck this week and hope curling fans have the opportunity to experience the small town hospitality of Morris and Rosenort. Please take the time to thank all the local sponsors and volunteers and spend some time in town and at the rink making connections and enjoying the competition.
Welcome one and all to the 9th anniversary of the DEKALB SuperSpiel. We know you will enjoy some great curling during this year's event. New for this year is the total Prize money will be $90,000; $45,000 for Men and $45,000 for Women. We are excited to welcome all teams from across Canada and around the world!!
We would like to thank our Title sponsor, DEKALB for their continued support and especially Trish Jordan and the many others at Monsanto that have committed time and energy to this event. We also thank our Presenting Sponsors; Meridian Industries (Women) and Rocky Mountain Equipment (Men) for their continued support. Also special thanks to all our Presenting level sponsors The Town of Morris and the Rural Municipality of Morris, our Official Host Sponsors, help us welcome fans and curlers from around the world to both the Morris Curling Rink in Morris and the Rosenort Community Center in Rosenort. Also we are excited to announce three new sponsors at the Presenting level for 2016. Our lounge sponsor will be RBC Dominion Securities, Patrick Rae/ Royal Bank. Graphic Intuitions (web sponsor) has done a wonderful refresh of our DEKALB website.
We are lucky to have wonderful media support. It is another critical aspect to the success of this event. We thank them all for their great coverage and dedication to our event. We are pleased to have the Winnipeg Free Press as one of our two "presenting" media sponsors- We welcome Golden West Radio in 2016 as a new presenting media partner.
Volunteers are special. Our heartfelt thanks to our 150 plus volunteers for all you do to make this event run smoothly. Thanks to the Manitoba Liquor and Lotteries, our Volunteer Sponsor for the support!
Thanks to all the many other sponsors that also help to make this event possible. We encourage you to take time to look through the program to see our wonderful sponsor support. We ask you to thank them and support their business as one of our many great sponsors!!
Great events don't happen without great ice. Thanks to Al Gitzel and his Morris Team and Greg Ewasko and his Rosenort for the great ice you provide. A SUPER Job!!
This year will also see the 3nd annual "Rings of Influence" business reception taking place hosted by the Morris and District Chamber of Commerce, the Rosenort Chamber of Commerce as well as the Town of Morris and the Rural Municipality of Morris. They are inviting businesses to come and network and also to take in some of the DEKALB SuperSpiel curling. It is great to have them back.
Thank you to everyone for making this event possible – our sponsors, our volunteers, our fans and of course, the teams that put on this show. It is wonderful to host you all here in the Morris Curling Club and the Rosenort Community Centre.
We hope to see you all back for the 10th Anniversary DEKALB SuperSpiel, November 17 – 20th , 2017.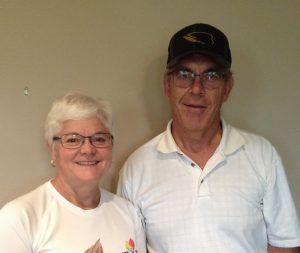 Chris and Lorne Hamblin
Co-chairs-DEKALB SuperSpiel 9