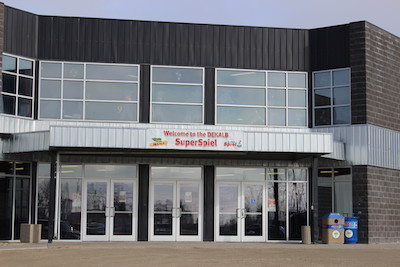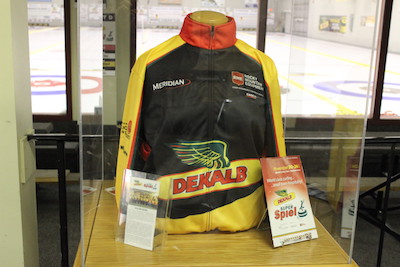 HISTORY OF THE DEKALB SUPERSPIEL
Welcome to the 15TH annual DEKALB SuperSpiel. The Morris Curling established the DEKALB SuperSpiel in March 2009 with the wonderful support of Monsanto Canada and the DEKALB seed brand. Monsanto and DEKALB have provided great support to make this event happen over the years. In 2019 we welcomed Bayer Canada, the new owners of the DEKALB seed brand. We are excited to be partnered with Bayer Canada. The bonspiel's name acknowledges the important support of DEKALB as title sponsor and evokes the names of the club's 1970's Big M SuperSpiel as well as the DEKALB SuperLeague, which provides a competitive outlet for curlers in the region.
The Morris Curling Club thanks Greg Ewasko who has worked with us to provide our competitors with top level ice. In 2022, Greg was unable to join us as he was too busy as Curling Canada's head Ice technician. Last year, Matt Rankine, who has been assisting Greg since 2014 at DEKALB Superspiel, came to oversee and ensure top quality ice for our competitors. Our fan experience is also top notch. The Morris Curling Club purchased a TV system in time for our 2nd DEKALB SuperSpiel so that our fans could have a super viewing experience with the ability to watch any sheet from any location in the club. We have hosted teams from around the world and across Canada providing fans with excellent viewing opportunities. With the expansion in 2014 to include 32 Women's teams and the 2015 expansion to also include 32 Men's teams along with the corresponding increase in prize money, the DEKALB SuperSpiel became one of the top events on both the Men's and Women's side. This expansion caused the need for more ice and thus the move to using both Morris Curling Club ice and Arena ice first in Rosenort in 2014 and then the Morris arena. 2022 saw us livestreaming 2 sheets of curling for most of the draws which provided viewing for those unable to attend in person.
Our DEKALB SuperSpiel has also become a meeting place for our sponsors. It provides an opportunity to meet with customers and to enjoy some curling as well. We say a Super thank you to our many sponsors that are so important in making the DEKALB SuperSpiel a success.
The DEKALB SuperSpiel continues to be a venue for garnering CTRS points and is an important part of the players' quest for the Manitoba Championship berths which have been allocated to the Manitoba Curling Tour.
We hope you will all join us for the 16th annual DEKALB SuperSpiel December 1-4, 2023. Check the World Curling Tour, Manitoba Curling Team and DEKALB SuperSpiel websites for details.
CONTACT FOR MORE INFORMATION:
FOR MORE INFORMATION visit our website: www.dekalbsuperspiel.com or reach out via email or phone: morriscurlingclub@gmail.com or phone 204-746-2271
MEN
| | | | | |
| --- | --- | --- | --- | --- |
| 2022 | Matt Dunstone | B.J. Neufeld | Colton Lott | Ryan Harnden |
| 2021 | Jason Gunnlaugson | Adam Casey | Matt Wozniak | Connor Njegovan |
| 2019 | Tanner Horgan | Colton Lott | Kyle Doering | Tanner Lott |
| 2018 | Matt Dunstone | Braeden Moskowy | Matt Wozniak | Dustin Kidby |
| 2017 | Dylan Johnston | Mike Badiuk | Cody Johnston | Travis Showalter |
| 2016 | Mike McEwen | B.J. Neufeld | Matt Wozniak | Denni Neufeld |
| 2015 | Reid Carruthers | Braeden Moskowy | Derek Samagalski | Colin Hodgson |
| 2014 | Matthew Dunstone | Jim Coleman | Daniel Grant | Christopher Gallant |
| 2013 | Steen Sigurdson | Riley Smith | Ian McMillan | Nick Curtis |
| 2012 | William Lyburn | James Kirkness | Alex Forrest | Tyler Forrest |
| 2011 | Braeden Moskowy | Kyle Muyres | D.J. Kidby | Dustin Kidby |
| 2011 | Kevin Koe | Pat Simmons | Carter Rycroft | Nolan Thiessen |
| 2010 | Mike McEwen | B.J. Neufeld | Matt Wozniak | Denni Neufeld |
| 2009 | Vic Peters | Daley Peters | Kyle Werenich | Cory Naharnie |
WOMEN
| | | | | |
| --- | --- | --- | --- | --- |
| 2022 | Abby Ackland | Meghan Walter | Sara Oliver | Mackenzie Elias |
| 2021 | Amber Holland | Kim Schneider | Karlee Korchinski | Deb Lozinski |
| 2019 | Laura Walker | Kate Cameron | Taylor McDonald | Nadine Scott |
| 2018 | Allison Flaxey | Kate Cameron | Taylor McDonald | Raunora Westcott |
| 2017 | Penny Barker | Deanna Doig | Lorraine Schneider | Danielle Sicinski |
| 2016 | Jennifer Jones | Kaitlyn Lawes | Jill Officer | Dawn McEwen |
| 2015 | Jennifer Jones | Kaitlyn Lawes | Jill Officer | Dawn McEwen |
| 2014 | Tracy Horgan | Jennifer Horgan | Jenna Enge | Amanda Gates |
| 2013 | Barb Spencer | Katie Spencer | Jenna Loder | Raunora Westcott |
| 2012 | Darcy Robertson | Tracey Lavery | Vanessa Foster | Michelle Kruk |
| 2011 | Barb Spencer | Karen Klein | Ainsley Champagne | Raunora Westcott |
| 2011 | Chelsea Carey | Kristy Jenion | Kristen Foster | Lindsay Titheridge |
| 2010 | Sherry Middaugh | Jo-Ann Rizzo | Lee Merklinger | Leigh Armstrong |
| 2009 | Crystal Webster | Desiree Owen | Samantha Preston | Stephanie Malekoff |
Ralph Fyfe, Lisa Wiebe & Mel Baxter
Co-Chairs
---
Cheryl & Harold Waldner
Program
---
Connie Norris
Decorating
---
Dale Hoffman
50\50
---
Chris & Lorne Hamblin
Sponsors' Meeting Coordinator
---
Bud & Shelley Stupnisky
Sponsorship Fulfillment
---
Lisa Wiebe
Volunteers
---
Rheal Vermette
Finance
---
Shelley Stupnisky
Accommodations
---
Lou Erickson
Gate\Admission
---
Allen Recksiedler & Yves Grenier
Officiating
---
Brian Recksiedler & Kris Mazinke
Team Entries\Draw\Scramble
---
Julie & Shayne Serediuk
Website Management\Social Media
---
Matt Rankine & Scott Churchill
Ice Staff
---
Cara Vermette
Secretary
---
Bree Thiessen
Bar
---
Brian Recksiedler & Charlie White
Facilities and Ice
---
Cheryl Demarcke
Hospitality & Lounge
---
Shelley Stupnisky
Promo & Media
---
Lorne & Chris Hamblin
Sponsorship
---